2021 April MVP: WHS Animal Transport Team (Bruce Vokey, David Sain, Theresa Gerelus & Ted Wakefield)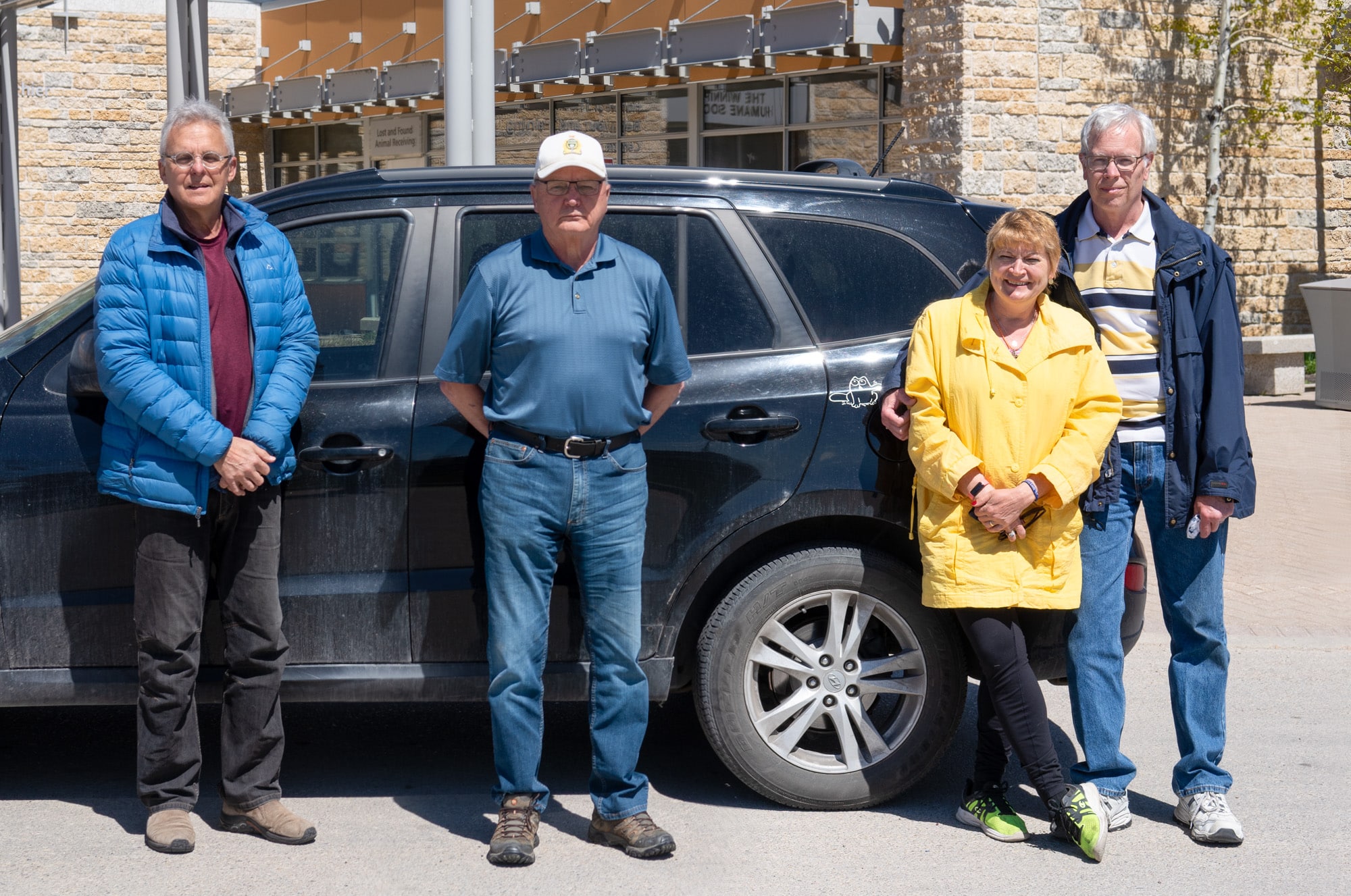 The members of the Winnipeg Humane Society's Transportation team are a phone call away but the gratitude they receive from the animals for which they care is fair compensation.
The team's four volunteers – Bruce Vokey, David Sain and married couple Theresa Gerelus and Ted Wakefield – pick up rescue dogs from the Winnipeg and St. Andrews airports and deliver them to the WHS clinic for care and, eventually, adoption.
"The WHS partners with several remote communities and rescues in Manitoba to identify, transport and provide vet care and shelter to remote pets in need," explained Dr. Gina Bowen, WHS Director, Veterinary Services.  "We are contacted regarding stray dogs who are not able to fend for themselves or owned or stray dogs who have been injured in dog fights, hit by vehicles, injured in snare traps, have parvovirus, or mange, just to name a few issues.  It takes a village to get these dogs to the WHS and our dedicated transport volunteers, Bruce, Ted, David and Theresa volunteer a huge amount of effort and time to make this happen. Once dogs in need are identified within the community, they need to be secured, a flight booked, a kennel located and transported to the airport. With the small size of the planes and few flights available, flights are often delayed, cancelled, full and it can take several bookings to make it happen."
Transport team members receive a text message – usually the day before – saying there's a pickup at one of the airports and pictures of the animals. Whichever team member responds first gets the pickup. "Sometimes it becomes a bit of a challenge who could answer first, sort of like a Jeopardy game show" Ted laughed. "Of course, everybody loves the puppy runs," Bruce added.
The animals arrive at the airports in cages, earmarked for several Winnipeg shelters. But because the WHS is the facility with a clinic, it tends to take in the puppies and those animals in greatest need of care. "These animals may have been caught in snares, hit by cars or otherwise injured," Bruce said. "We have the clinic that can do the surgeries to help these animals."
The prerequisites for working on the Transport team are a cell phone, a large vehicle such as SUV, flexibility of schedule and patience, because sometimes flights come in early and they're late.
And while it's not necessarily a prerequisite, it's clear that each of these four has a love for animals. David, a WHS volunteer for 2.5 years, has two dogs. Both are rescues and he's had them for eight and seven years respectively. Bruce, a retired police officer and corporate security consultant, has had dogs since he was three years old. And Theresa and Ted, who have been volunteers for 29 and 25+ years respectively, have had seven rescue dogs and cats over the years.
"Because we've got the two dogs from here, when I retired I wanted to give something back," David explained. He began his volunteering stint in the back as a Canine Enrichment Volunteer, working with dogs that have just arrived at the shelter. "I like to connect with the dogs in the back because I know they're very stressed. I like to engage with them and help them get settled in. It makes it a little easier for them."
After retiring from the Winnipeg Police, Bruce worked in corporate security for Pollard Banknote (owned by the late Lawrie Pollard, who served on the WHS capital campaign). Through this connection, Bruce learned more about the Humane Society and decided it would be where he would volunteer after retiring. He didn't waste any time, retiring on February 1, 2019 and starting to volunteer three days later. Until COVID-19 changed things, he worked for six hours every Monday in Intake.
"Working in Intake and meeting every animal that came into the shelter on Mondays was my big thing," he said. "And making sure that when I put them away the cats were curtained off and had some privacy and, in the case of dogs, they got some treats."
"It seemed like a good fit. I was looking for something to do, and I wasn't looking to get paid for it. After COVID hit, I made some inquiries about whether or not there was something else I could do to help out and they brought up the Transport idea. So I've been doing this since last April."
Theresa, who started out washing dogs, views herself as a link in the chain. "For me, for seven of our dogs and two cats, somebody cared enough to be part of the chain so that they'd be safe," she pointed out.  "That's all I consider myself to be is part of the chain. Somebody's picked up our dogs out of ditches or underneath porches or whatever because they cared."
Ted agreed. "We're cogs in the wheel, but the other cogs – the people here at any time, day or night, and those people who have arranged for the dogs to come down, they're actually working harder than we are. And the link is that everybody cares so much."
Each of the volunteers credits the exceptional cooperation between everyone for the success of the program. Theresa recalled one occasion where she brought in two cages containing six puppies and a chihuahua in the first box and the puppies' mom and dad in the second one. "Wheeling in the cages, I was met by a team of four and they were already putting medicine into the syringes before we'd gotten all the dogs in the building. Phenomenal," she said.
David said the staff and volunteers show these animals so much love in order to get their new lives started up on a positive note. He gives particular credit to volunteer Gabrielle Thiessen, who he calls 'a saint' for taking dogs home for staycations or weekend walks in the park.
David has also been able to catch up with a couple of the dogs. He's met them by accident while going on walks in his neighbourhood. "I ask the owners, 'Is that from the Winnipeg Humane Society? A couple of months ago?' It's so nice to find out how the dogs are doing."
"Our WHS transport volunteers are flexible with schedule changes and go with the flow when things don't go as planned," said Dr. Bowen. "They are available with sometimes very little notice and meet the dogs when they arrive at the airport in Winnipeg.  They make sure these pets who are going through a stressful time don't have to wait, they give them reassuring words and make sure they are safely transported to the WHS so that they can be admitted, vetted, vaccinated and treated to be able to live healthy lives. The WHS wants to give a huge shout out to our transport volunteers who make this program happen and go above and beyond every week."
Plane schedules notwithstanding, the four experience high levels of satisfaction with their volunteer work. As David said "I come home and I usually feel good knowing I've helped out a dog start over."
Written by: Brian Kozak, Volunteer
Photo by: Jim Harvey, Volunteer
---
A group of volunteers founded the Winnipeg Humane Society in 1894 and are vital to our success today! With the help of volunteers, we can provide care, love and attention to our four (and sometimes two) legged friends until they find their forever homes. The MVP (Monthly Volunteer Profile) will recognize the work and get to know these special MVP's in a spotlight each month that includes an article and photo shoot. MVPs will receive a framed photo and gift card as our thanks!
Is there a volunteer you'd like to nominate to be MVP? E-mail us (volunteer@winnipeghumanesociety.ca) and tell us why you think they should be an MVP!