2021 August MVP: Janessa Sawatzky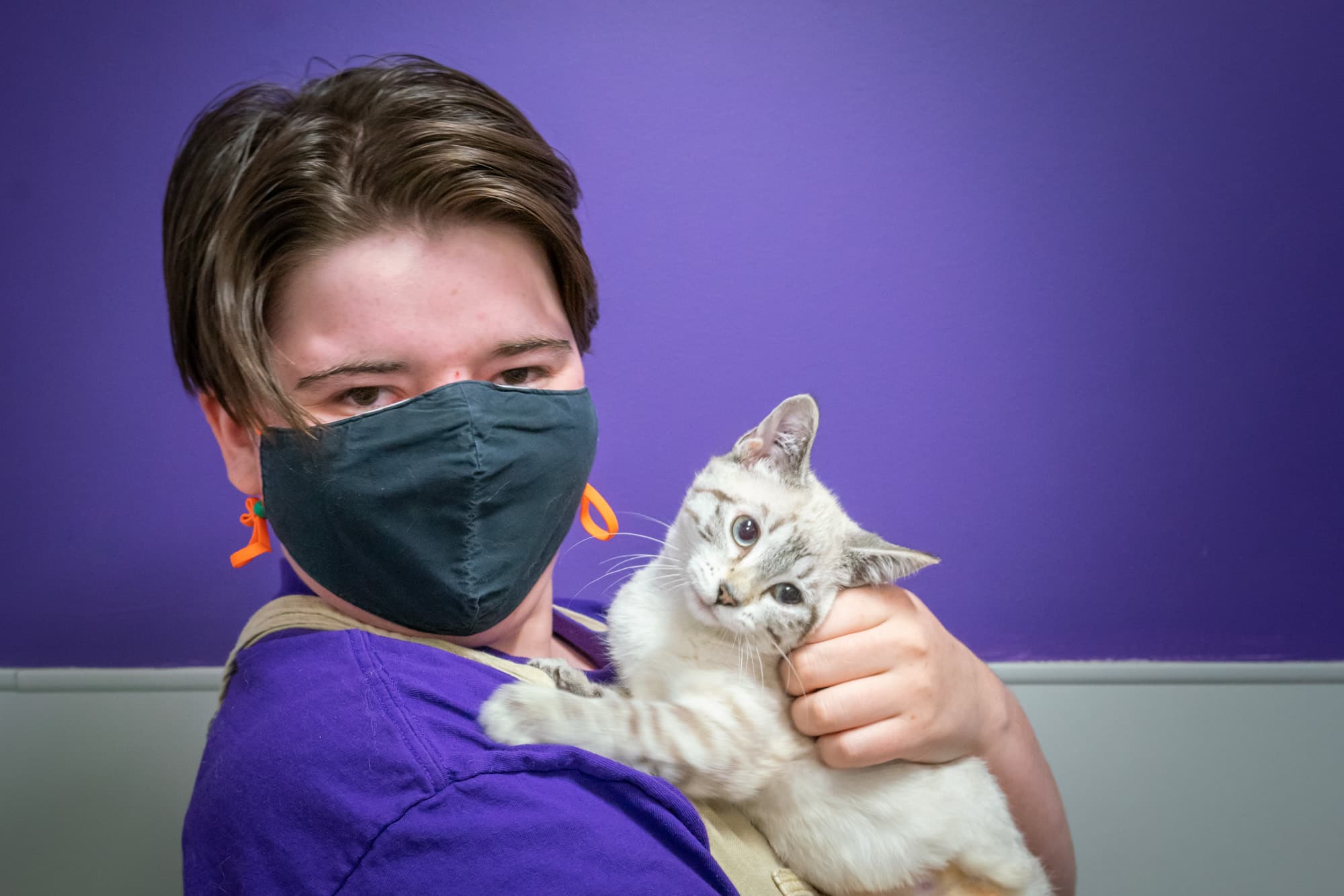 Growing up on a farm/acreage near Carman, Manitoba, Janessa Sawatzky has a lot of experience with cats.
Now living and working in Winnipeg, she gets her cat fix by volunteering one night a week at the Winnipeg Humane Society as an Evening Care Provider. "It involves mostly feeding the cats in the condos and Kitty Kat Way as well as logging how much they've eaten during the day," she explained. "This way, we can see if they like the food they have or if we need to try a different diet."
The position also includes filling in behaviour charts for each of the cats. The charts indicate how the cats feel when they see her – whether they greet Janessa or hide away in a corner. "This gives us an idea of how they've progressed over time, to see if they're becoming more used to people," she said.
"It's really nice to be around the cats, pet them, talk to them and give them some interaction," she continued. "There's been less people around visiting so it's good to have people talk to them and pay attention to them. They enjoy the company, once they get over their initial shyness."
Janessa has also begun mentoring new volunteers. "I've just mentored one new evening care provider for a few weeks, showing her the ropes and how to mark the charts, feed the cats and give the cats lots of cuddles," she said with a smile, adding "and this week I'm starting with a new volunteer as well."
She doesn't get too much time to develop relationships with any of the cats, she pointed out, because the WHS does a good job of finding homes for cats. Often, most of cats are different from one week to the next – and that's a good thing. But Janessa admitted that she has a soft spot for those calm kittens that want to curl up in her arms and snuggle.
At home, Janessa has a tortoise shell cat (dropped off at her parents' farm) and an Alaskan Malamute, which she adopted from the Humane Society in Morden. But she's currently living with her brother, who has two dogs and a cat. Her brother may be moving out in the future, which might leave her with more room for another pet or two. Or she might try fostering cats.
"I've always been more of a cat person," she said. "I love my dog but I gravitate towards cats. Cats like their own personal space and have more boundaries. When I'm home my dog is always in my space, wanting my attention all the time." She noted that her dog and cat are especially interested in her when she comes home after volunteering, with 'interesting' scents on her clothes from all the cats at the shelter."
She started volunteering in August 2019 until March 2020 when COVID-19 meant restrictions. She started back up in July 2021.
Janessa's always loved animals and started volunteering at the shelter because she felt it would be good experience to get her into veterinary school in Saskatchewan. Instead, she stayed here, got her B.Sc. and is working in Winnipeg and volunteers one night a week after work.
When this writer remarked that she seemed younger than many WHS volunteers, she said the Humane Society is a great place to get involved, at any age. "Volunteering here is a really good opportunity," she explained. "Even just meeting new people, being around cats and dogs. And if you're a more introverted person, there are opportunities where you don't have to talk to as many people. You just get to deal with the cats and dogs."
"It's very rewarding and I look forward to it every week."
Written by: Brian Kozak, Volunteer
Photo by: Jim Harvey, Volunteer
---
A group of volunteers founded the Winnipeg Humane Society in 1894 and are vital to our success today! With the help of volunteers, we can provide care, love and attention to our four (and sometimes two) legged friends until they find their forever homes. The MVP (Monthly Volunteer Profile) will recognize the work and get to know these special MVP's in a spotlight each month that includes an article and photo shoot. MVPs will receive a framed photo and gift card as our thanks!
Is there a volunteer you'd like to nominate to be MVP? E-mail us (volunteer@winnipeghumanesociety.ca) and tell us why you think they should be an MVP!