Action Alert! Tell the Manitoba Government That Exposing Animal Cruelty is Not A Crime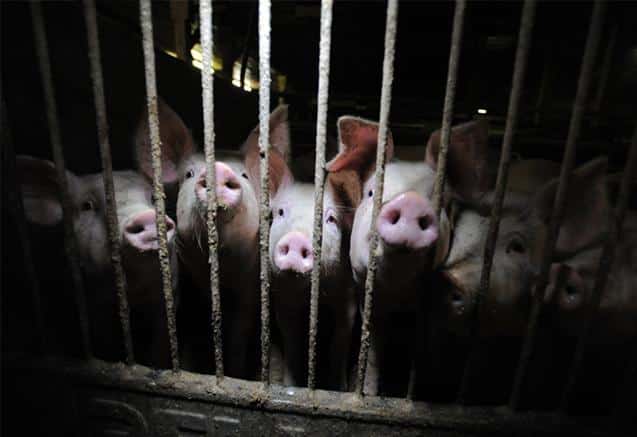 ACTION ALERT:
Across Canada, Provincial governments are enacting legislation that under the guise of protecting rural property and enhancing biosecurity, target the ability of whistleblowers and animal welfare groups to hold industry accountable. Such legislation punishes those who make public the cruel and inhumane treatment of farm animals in large-scale, industrial farms, as well as transportation and slaughter facilities.
The Government of Manitoba is now proposing amendments to both the provincial Animal Diseases Act and Petty Trespasses Act, and we are urging our friends and supporters to participate in the public consultation process to make sure animal welfare and the protection of whistleblowers are not affected by these changes. Therefore, we urge you to please fill out the following public commentary survey, accessible to all members of the public until October 31st, 2020. The link to the survey is:
https://engagemb.ca/rural-crime-bio-security-metal-theft-legislation/survey_tools/rural-crime-bio-security-metal-theft-legislation
And while completing the survey is important, it cannot stop there. We are urging Manitobans to contact their MLAs (phone call is always best) and ask them to oppose 'ag-gag' legislation from being implemented in Manitoba, irrespective of their political affiliation.
The proposed amendments claim to strengthen biosecurity measures and trespassing fines on all premises where farm animals are raised or kept.  Provincial governments claim that such 'ag gag' bills are solely for stopping illegal trespassing, when in fact such bills go much further by prohibiting whistleblower exposes that shine a public spotlight on animal abuse and mistreatment, as seen with Ontario's Bill 156 and Alberta's Bill 27. Federal animal cruelty laws and provincial animal welfare laws are outdated, and their limited enforcement provides little to no protection to animals from cruelty and neglect.  Rather than strengthening Manitoba's animal protection laws, the proposed 'ag-gag' amendments make it even more difficult to protect animals and prosecute those that commit offences against them.
Therefore, filling out a public commentary survey is not enough. The Winnipeg Humane Society is urging our supporters to call their MLA and let them know that these amendments will do nothing to protect Manitoba's farm animals. At a time where public trust in the agricultural sector is at an all-time low, more transparency is needed on farms, not less. Please help us today in being a strong advocate for Manitoba's farm animals. Here is a link to the MLA contact list and contact information.
This campaign is a joint effort of your Winnipeg Humane Society, Animal Justice, Humane Society International/Canada, and other leading SPCAs and national animal welfare organizations, who are united in our opposition to legislation that will endanger the well-being of animals and punish those who voice alarm at practices that cause pain and suffering to innocent creatures.
We hope we can count on your support.
Sincerely,
Javier and the WHS Animal Welfare Team