CEO Blog: Putting Ourselves Out There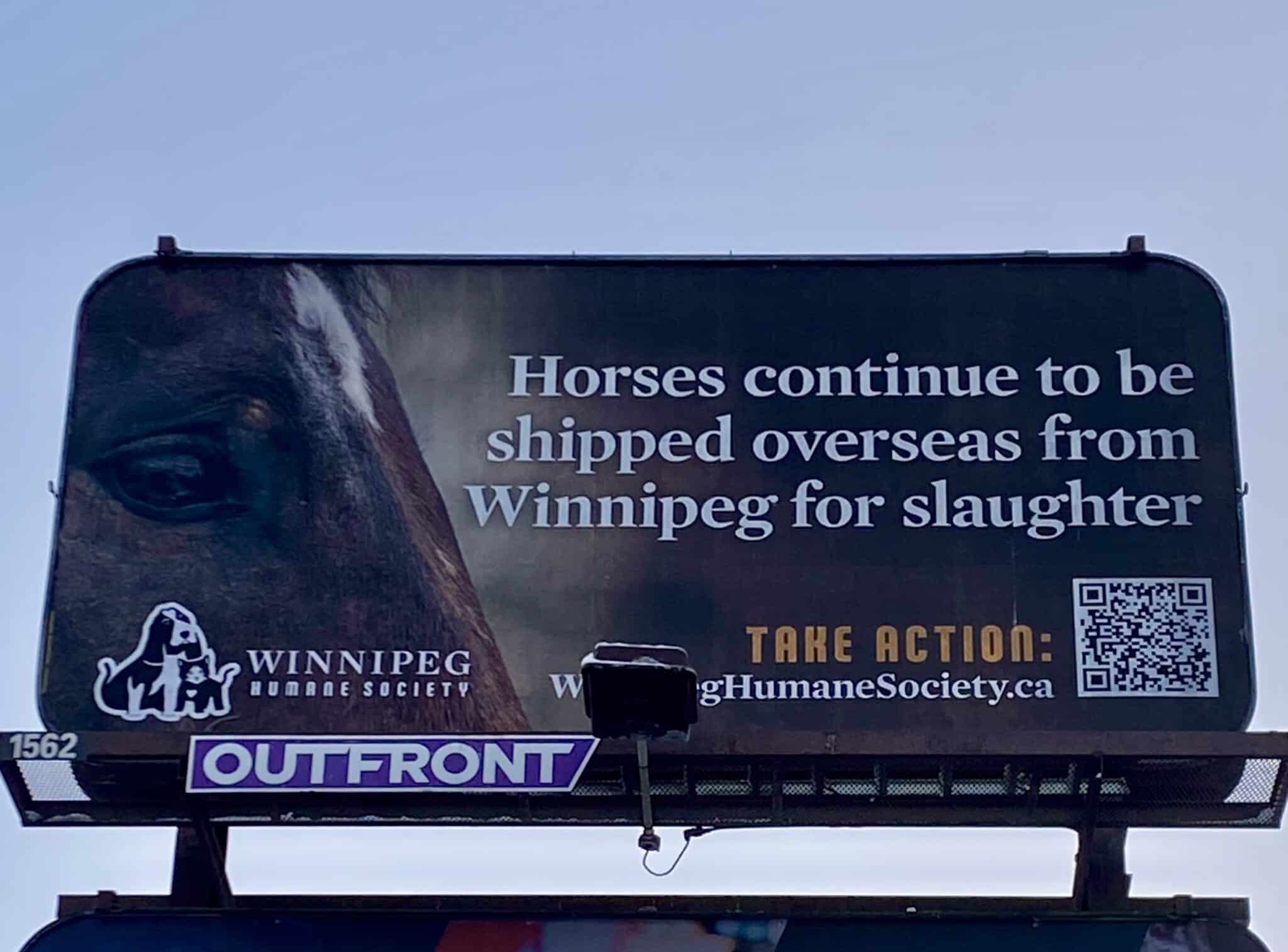 Photo credit: Manitoba Animal Save
I am pleased to say the WHS has started 2023 off with a bang. We've put ourselves out there like never before and have taken a stand on what we believe is important.
As you know, we have been working on ending Live Horse Exportation.
Two billboards are now located on Pembina Highway and Portage Avenue to raise awareness of this inhumane practice.
I have personally had a hard time with this issue…
In December, we shared some breaking news about a shipment of horses scheduled to be exported out of Winnipeg's airport and running into significant delays. Horses arrived at the airport around 11 pm and did not leave until 9 am the next morning, risking violating Canada's federal Health of Animals Regulations, which permits horses to travel up to 28 hours without food, water, or rest.
I often share WHS news on my personal networks; this one took me the entire work week (emotionally) to share. You would imagine that I would become accustomed to inaction on this issue, but I can't and won't. When our Welfare team notified me of the delay, my stomach hit the floor; I needed a trigger warning – it really just piled on the feelings I was already having about these beautiful sentient creatures; I was ruminating on the feelings these horses were enduring and were going to endure.
So here we are, putting ourselves out there… we hope you drive by, maybe even wave and feel proud of YOUR WHS making things happen. We urge you again to sign our petition and urge the government to follow through with their mandate; here are a few steps:
Sign and share the following petition backed by NDP Agriculture Critic Alistair MacGregor: horseshit.ca
Write to Prime Minister Trudeau and urge that his mandate to ban horse exportation be implemented today: https://pm.gc.ca/en/connect
This is just the beginning of our plans to tackle animal welfare issues that concern our community. Watch for more campaigns coming this year!
With love and compassion,
Your WHS CEO
Jessica Miller