March 2022 Volunteer Profile: Lynda Buckmaster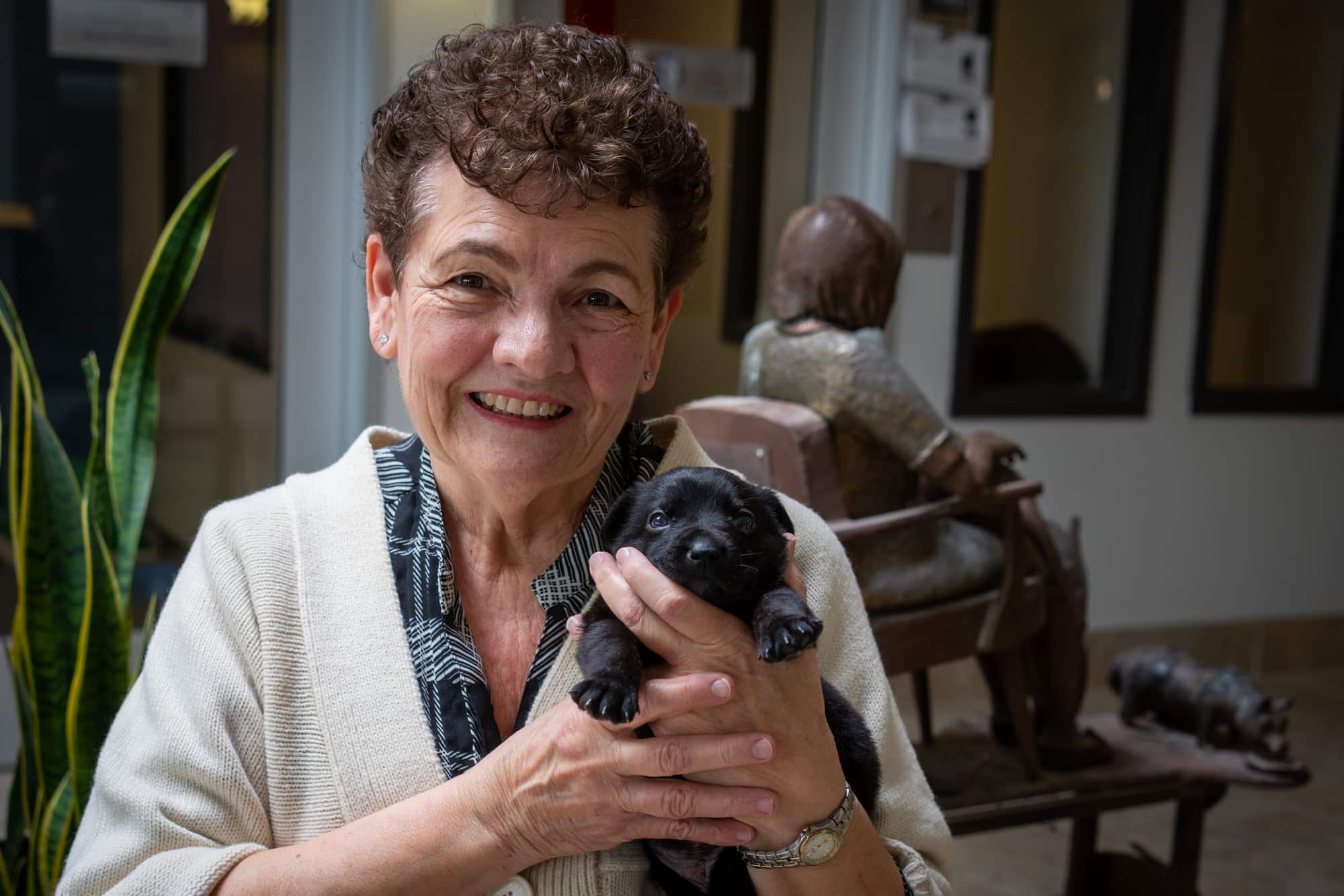 Fostering animals has become a family affair of sorts for Winnipeg Humane Society volunteer Lynda Buckmaster.
Lynda does most of the day-to-day work with the kittens, her husband Bob is there to snuggle and cuddle the little ones. And Lynda and Bob, their daughter and two sons have adopted many of the animals Lynda has brought home to care for.
A self-proclaimed 'cat lady,' Lynda has been fostering for seven years. Her first two years she worked on her own before joining the WHS five years ago.
Lynda retired in 2011, kept herself busy for a few years before deciding 'I should do something with myself.' Doing something with animals came to mind because she's always loved cats especially and, growing up, her family had dogs and cats and turtles and raccoons and…
Starting out on her own, she used her network of friends with hobby farms outside the city to identify and supply their neighbours' unwanted kittens. "Sometimes when farms get too many kittens, they simply get rid of them and I just couldn't stomach that," she explained." I just said 'Give them to me and I'll socialize them and get them ready to go somewhere where they are wanted.'"
Then she decided to begin volunteering with WHS. "I've always loved animals and I thought the Humane Society would be a good place to go," she explained. "Because I can still rescue kittens, surrender them to the Humane Society and then foster them back. They can find adoptions for them. It has worked out really well."
Lynda began keeping track of her kittens she has fostered only three years ago and since then has fostered three sets of mom and baby kittens and 57 bottle babies, including her current three This adds up to 80 kittens, cats and pups. She's developed something of a specialization of being able to bottle-feed cats.
But her latest trio of fosters look a bit more like German Shepherds. Or Labradors. "This is the first litter of pups I have fostered. The only reasons why I don't foster dogs are because I currently have four adult cats at home (three of which were barn babies that she couldn't socialize enough to re-home) and there are a lot of foster parents that will do dogs. But Michelle Hedin from the Foster department called me and said they had an emergency with 11 two-day-old puppies that had been brought in. I figured it must have been an emergency for her to call me because I'm not a puppy person but I can bottle feed little animals. I still love puppies, so I couldn't say no. They needed help, and I was available."
All this fostering has led to several family foster fails for the Buckmasters. One of Lynda and Bob's four cats was raised by them from two days old. "I thought 'I raised her I can't give her up now," she said. "I have three children – my daughter has two of my rescue cats, my oldest son has another two of my rescue cats and my other son had at least three of my rescue cats."
She's quick to point out that it's easy to get close to the animals you're fostering. "It's hard on both me and my husband Bob as well. Although I do the work, such as the bottle feeding, he does a lot of the loving and he cuddles," she laughs. "Each time we get a litter, there's always one that he says we should keep. I have to tell him we just can't. I have to remind him that we're getting too old to keep kittens anyway. I have stood strong even though my husband can be a bit of a marshmallow. And now he wants to keep her (the puppy she's holding in her arms during the interview)." She added that Bob does a great job of cuddling/distracting the other little ones while one kitten or puppy is being bottle-fed. She can only feed one at a time. "You need someone to keep the other animals busy," she said, smiling.
Even her four cats (one female, three males) like to get involved. They all love the kittens, but two quite enjoy playing or napping with them. Their offer to help the kittens was spurned one time when she fostered a litter together with a very protective mom cat. Mom got out of the room where fosters are kept and chased their four cats all around the house until Lynda opened up the door so her cats could escape to the back yard.
Lynda has no plans on giving up fostering anytime soon. Emergencies notwithstanding, she'd prefer to stick with kittens. As for more 'foster fails,' you never know.
Her efforts are well understood and appreciated by the Foster team. "Lynda has been a long-time foster parent for orphaned kittens with many sleepless nights she has seen dozens of animals successfully grow up to lovely social pets," said Michelle Hedin. "She takes fostering very seriously but always has a smile when she comes in for needed appointments."
Lynda is a gem and is willing to help out in any way she can even if it's out of her comfort level. Just recently she took in some orphaned newly born puppies and they are now fat and super happy roly-poly puppies. Thank you, Lynda for being you.
Written by: Brian Kozak, Volunteer MVP Writer
Photo by: Jim Harvey, Volunteer MVP Photographer
---
A group of volunteers founded the Winnipeg Humane Society in 1894 and are vital to our success today! With the help of volunteers, we can provide care, love and attention to our four (and sometimes two) legged friends until they find their forever homes. The MVP (Monthly Volunteer Profile) recognizes the work and gets to know these special MVP's in a spotlight each month that includes an article and photo shoot. MVPs receive a framed photo and gift card as our thanks!
Is there a volunteer you'd like to nominate to be MVP? E-mail us ([email protected]) and tell us why you think they should be an MVP!