May 2020 MVP: Jeannine Taylor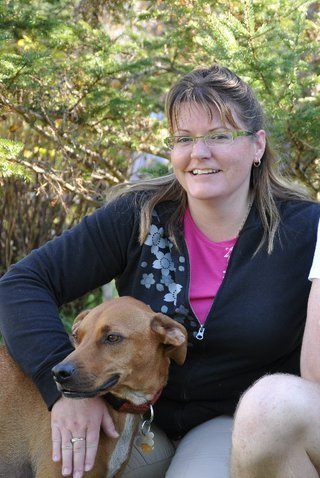 Animals have always been a big part of Jeannine Taylor's life, so it should come to no surprise that she spends part of her spare time volunteering with the Winnipeg Humane Society.
"I've always loved animals," she said. She grew up with cats and still loves them but when she was young Jeannine had a habit of bringing stray dogs home. "One time I brought home an old English Sheepdog," she said, sheepishly (pun intended). "I was out riding my bike and I came upon this dog. I took the lace out of my shoes and used it as a leash, and I walked the dog home. My parents helped me, and we found the owners after a couple of days and returned him."
"It's always been in me to help animals."
Today she has no cats because her husband is allergic, but there is a rescue dog (her family drove down to Iowa to pick him up) and three fish. They always used to have two dogs, so if they see another one at the shelter that connects with them, you never know. She said she is especially drawn to the older ones. "Even though my husband has said over the years that he would like a puppy, I always find these old dogs that need adoption. There are lots of great people out there looking for animals, even the older ones. It can be harder looking after the old ones, but they need homes too and I like doing it."
And while it does not live at home, Jeannine also has a 26-year-old horse at a stable that she as much spends time with as she can.
Animals play a part in any 'free' time Jeannine may have. She is volunteered and done casual work at a veterinary clinic, taught horse riding at a summer camp and runs a 4-H club.
Jeannine's been able to use the skills she has developed over 20 years doing training, writing and contracts in the insurance business. Since last summer she has done many of the orientation tours for new or prospective volunteers. She will also be one of eight volunteers appearing on a virtual volunteer orientation session that will soon be available online for those potential volunteers unable to attend an in-person session.
She started as a volunteer in Animal Intake in the fall of 2017. She loved the people and the position but outside commitments made it too much for her. She still visits the department whenever she can.
"My Mom used to ask me if it was hard to work in Intake and see the animals?" she said. "Isn't it sad? And I would tell her it could be, but I always try and put a positive spin on it. Every animal that comes into Animal Intake has a better chance than what it had. It's getting another chance to get healthy and get adopted by a loving family."
In normal times, orientation sessions are usually held twice a month, which works well with Jeannine's commitments. It means a bit less interaction, but she usually manages time for a stroll around the shelter to see the animals and see what ones strike her fancy.
"I work with Kelle and Johanne in Volunteer Services, along with eight or nine volunteer mentors," she said. "They've all got such diverse backgrounds and great stories. They are very knowledgeable and help in different areas. It seems like they've all done multiple roles because there's so many great opportunities at the Humane Society."
Jeannine admits she was a bit surprised when she went for her orientation session prior to becoming a WHS volunteer. "I thought the only volunteer positions were cat cuddlers and dog walkers," she laughed. "It was so great – when we went on our orientation tour our guide told us about what seemed like 20 or 30 different volunteer positions. It seemed like whatever your interest or capabilities, there's something there for you to do to help out the WHS."
Written by: Brian Kozak, Volunteer
---
A group of volunteers founded the Winnipeg Humane Society in 1894 and are vital to our success today! With the help of volunteers, we can provide care, love and attention to our four (and sometimes two) legged friends until they find their forever homes. The MVP (Monthly Volunteer Profile) will recognize the work and get to know these special MVP's in a spotlight each month that includes an article and photo shoot. MVPs will receive a framed photo and gift card as our thanks!
Is there a volunteer you'd like to nominate to be MVP? E-mail us (volunteer@winnipeghumanesociety.ca) and tell us why you think they should be an MVP!