Monthly Volunteer Profile: Philippe Lajoie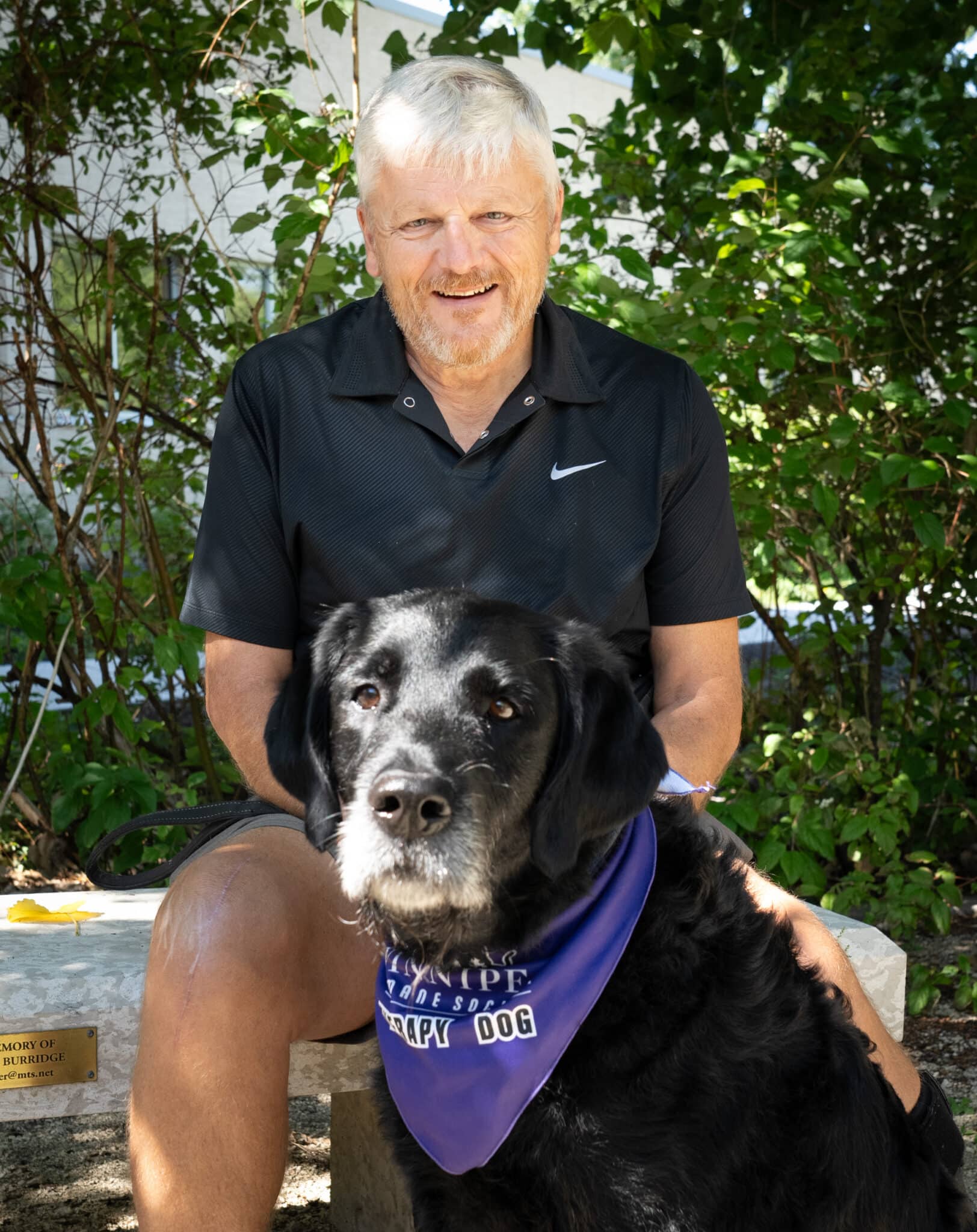 When Philippe Lajoie retired from teaching, he looked for something to do with his new-found time. And if he could bring Biden, his Labradoodle pup with him, so much the better.
"I went on a Winnipeg volunteer web site and saw that the Winnipeg Humane Society was looking for somebody in the Education department," Philippe explained. "I came down for an interview and asked if I could bring Biden to the events. They said fine, as long as he passes the requirements. So, I brought him down and sure enough, he passed and we've been doing the Dog Ambassador stuff together for almost three years."
Biden (named after the U.S. president, his dog tag says POTUS – President of The U.S.) is now five years old. Philippe's fourth dog, Biden and Philippe go to events at schools, seniors' homes, workplaces and even shopping malls. They've even gone to the University of Manitoba Faculty of Medicine to 'de-stress' students the week before exams.
"We have a little routine, if we're at a school and it's not part of a lecture," Philippe said. "For example, if we're there for Wellness Day, for example, I'll tell the kids about Biden and his breed and what he loves to do. Then we'll get in on how to approach dogs and some safety tips. Then he performs. He has some tricks that he does. The standard stuff – he can high five, sit, roll or crawl. I'll get the kids to hide a few treats around the building and he'll go find them.
"The kids love it and he loves seeing them."
Philippe says keeping Biden mentally sharp and physically fit is important, so they go for morning walks off leash in a nearby park and evening walks on the leash. And to stimulate Biden he'll hide treats around the house for Biden to find. And he regularly makes sure that Biden can still do all the tricks that he does at events. When they go to the lake, Biden loves playing in the water.
Training is very important for both dog and person but Philippe says Biden had one incident where temptation got the best of him. "When we first got him, we were doing puppy training. The day of his graduation, I took him out to the off-leash park to get rid of some of his energy beforehand. We're walking down the road and there's this mud puddle and today was the day he decided he's going to roll in it. I couldn't believe it – he's never done this before."
A bonus for Biden is his friendly disposition. He likes kids (but sometimes get nervous when meeting a tall male for the first time), likes being patted, is fine with other dogs being at some of his events and is even 'chill' with family members' cats. "He's really good natured – even if you bring a new dog into the house.
He's likely not going to learn any new tricks, but agility training for fun might be in Biden's future. "The other day we were out in Kenora at their dog park, and they have a little agility run set up, so we gave it a try," Philippe said. "So I put the bar down and he jumped over it. I raised the bar, and he jumped over it. We tried going through the agility course and there's a ring that you're supposed to jump through – and he did it. I went 'Woah, you've still got it, buddy!'" Philippe cautioned that any agility exercises would be strictly recreational in the back yard. After two knee surgeries, all the running around an agility course would be hard for Philippe.
They go out to represent the WHS a couple of times a month. Philippe is interested in doing more but both he and his wife Bea are both retired and are down to one car. Bea also gets involved with representing the WHS – when Philippe was recovering from knee surgery recently, Bea took the training, passed the required background checks and took Philippe's place with Biden at a few events.
When interviewed by the WHS three years ago, Philippe considered signing up for the See Spot Read program where school children read to dogs. But at that time, Biden simply had way too much energy to sit for long periods of time. "I think he's getting to the point now where he may be able to do that in the future," he said. "Biden can now lay down for extended periods of time without too much problem."
Written by: Brian Kozak, Volunteer MVP Writer
Photo by: Jim Harvey, Volunteer MVP Photographer
---
A group of volunteers founded the Winnipeg Humane Society in 1894 and are vital to our success today! With the help of volunteers, we can provide care, love and attention to our four (and sometimes two) legged friends until they find their forever homes. The MVP (Monthly Volunteer Profile) recognizes the work and gets to know these special MVP's in a spotlight each month that includes an article and photo shoot. MVPs receive a framed photo and gift card as our thanks!
Is there a volunteer you'd like to nominate to be MVP? E-mail us ([email protected]) and tell us why you think they should be an MVP!